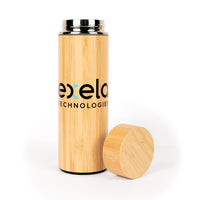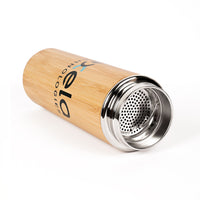 16oz. Vacuum-Sealed Eco Bamboo Bottle
These bamboo bottles are a great cost effective solution to staying hydrated. And are much better for the environment versus plastic.
A high-quality stainless steel water bottle with an eco-friendly bamboo exterior.
The interior is constructed of vacuum-sealed, Type 304 & Type 201 stainless steel.
Features a copper lining for added insulating power.
Features a removable infuser for holding fruit or brewing loose leaf tea right in the bottle.
Bamboo is a far more sustainable wood and harvesting it has a lesser impact on the environment.
The wood grain will be slightly different on each bottle due to the nature of the bamboo material.